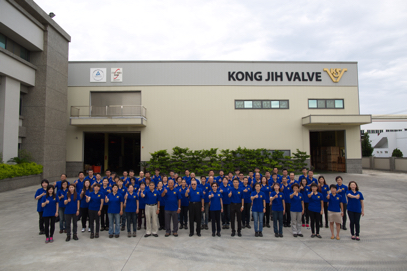 Founders : C.C. Chen; T.W. Chang; C.M. Yen; T.P. Hsu
"Kong Hsin Enterprise" was established as a valve manufacturer for Taiwan market in 1974. In 1977, Kong Hsin Enterprise increased its capital and registered as "Kong Sheng Valve Industrial Co., Ltd"(KSV). With years of new product development and quality consistence, the reputation of "KSV made" was heard in the international market. It was a starting point for KJV when oversea orders were received. Therefore, "Kong Jih Valve Industrial Co., Ltd" (KJV Plant#1) was established in 1990 and Plant#2 was established in 2009 to handle export business for OEM/ODM products. In 2013, we've also complete the supply chain integration by establishing the lost-wax casting foundry for investment castings.
KJV has more than four decades in manufacturing, from a small machining shop in Shilin, Taipei City and Danshui, New Taipei City residential area to precision CNC machine, efficiency assembly conveyor lines, temperature & humidity control warehouse and modern office building in Dajia, Taichung City. We appreciate the support from our dedicated employees, loyal customers, and value suppliers. KJV has created a harmonious and joyful working atmosphere between KJV and interested parties. KJV is full of experienced employees, customer trusts, and reliable supplier chains. In our belief, it is a right business culture to acquire the maximum balance point among interested parties.
Thank you for visiting the KJV website. You are more than welcome to join us. KJV is expecting to share the thriving experience with you.
1974年設立閥門公司"功興企業社",以生產銷售台灣市場為主。1977年,公司擴張資產,以"功勝凡而"之名向政府申請營業登記。 經過幾年成功的產品開發和對品質的堅持,"功勝製造"的名聲在市場上被聽見,國外客人開始下單,而這正是功勝的轉捩點。在1983年取得第一個國外客戶的訂單,銷售市場從台灣邁向國際,並於1990年設立"功億工業股份有限公司"、2009年設立功億二廠,專以出口閥門業務為主,並於2013年設立鑄造廠以垂直整合閥門供應鏈。
回想功億,我們會說已有40多年的成長歷史,從台北士林住家式加工廠落腳,擴廠到台北淡水,到現在擴展至台中大甲幼獅工業區,備有高階加工機台、高效能的生產線和辦公大樓。我們感謝所有員工的貢獻、客戶的忠誠度與供應商們的支持,才得以在利害相關者之間營造和睦的氛圍。功億有著豐富經驗的員工、客戶的信任、和可靠的供應鏈,並相信這正是取得與利害相關人最大平衡點的企業文化。
我們謝謝您透過網頁來認識我們,我們更歡迎您的加入,也期待您能與功億一起分享成長的歷程。
Vision
As a professional valve manufacturer, Kong Jih Valve ( KJV ) knew that the quality of valves is highly related to environments and safety. Here, KJV takes environment sustainable development and your safety as a part of our responsibilities, and keeps our commitment,"Keeping Safe with safe Valves"to you.
作為一個專業的閥門製造商,功億知道閥門品質與環境安全間存在密切的關係。在此,功億將環境永續發展和您的安全視為我們責任的一部分,也在您與功億之間持續維持"安全的閥門,守護您的安全"的承諾。
Mission
With years of successful supplier chain integration, KJV continue innovation on providing new product design, improving product quality, facilitating delivery schedule, and offering excellent customer services to assist customers to face the market competition/challenge and create mutual benefit business module for internal and external parties. Our quality policy – Quality Comes First, Coexistence and Co-Prosperity, Innovation and Reformation, Customer Satisfaction.
多年來成功的供應鏈整合,使我們持續創新於新產品設計、產品品質增進、縮短交期、與傑出的客戶服務等方面,以協助客戶面對市場的競爭並營造內外利害相關人皆受益的商業模式。本公司的品質政策:『品質第一』、『共存共榮』、『創新變革』、『客戶滿意』。
Leadership
I was a lab researcher before joining KJV. Experiments were common tasks for me back then. Correct chemicals, procedures, key variables, records, and safety are important things to a successful experiment. A good laboratory practice deeply affects my leadership and management style. Now, manufacturing procedures, detailed records of each steps, occupation safety, and health are critical elements to produce high quality and consistent products.
I have worked in KJV more than 10 years. During the time, I have learned International specifications and certifications for valve industry. In addition, I am familiar with manufacturing process in order to improve the KJV quality system. Therefore, recognition has been won by several external and customer audits. KJV is listed as a preferred manufacturer in several world-renowned oil and gas industries.
Recently, KJV determines its target and policy by introducing the SWOT analysis model. KJV is able to project its growth and reduce its risks to achieve its goal.
C.S. Chen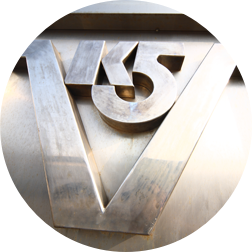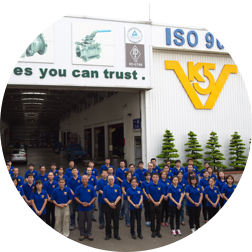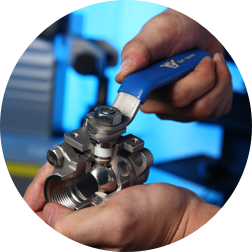 I started at Production management section and retired at Quality management section. After retired, I was honor to be hired as one of Quality committee members. So far, I work in KJV almost 20 years. For the purpose of improving the company quality system, I am lucky to have outside training opportunities in order to assist company to receive International Certifications' approval and pass customer audits in the preferred manufacturer list. I really appreciate the opportunities provided by the company. In addition, I am full of working vitality by seeing the progresses of company and myself.
By Quality Committee Member, Mrs. Wen
I work in an assembly line 20 years. In the past, I considered the assembly as boring tasks because it does routine tasks over and over. However, when I actually assemble products after understanding assembly procedure and design concept from senior staffs, I understand that our products are installed in critical environments and assembly is an important task. In addition, 5S (sort, set in order, shine, standardize, sustain) management and new product developments have bring in a variety of tasks in a comfortable working environment. Besides learning working knowledge, I am also happy to work here because of the warmness from colleagues.
Assembly line, Mr. Chang
Certifications
International certifications are acquired for our product features and facilities. So far, KJV owns PED, API 6D, AMLs, API 607, CRN, KWWA, ISO, ATEX, AAR certifications. Certainly, if you need other certifications to compete in the market, you are more than welcome to contact us through "Contact Us".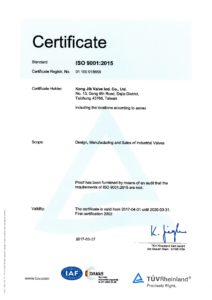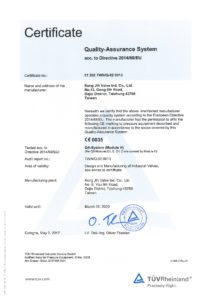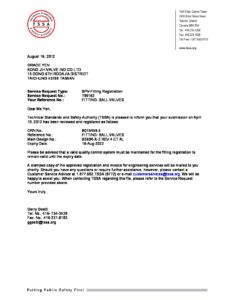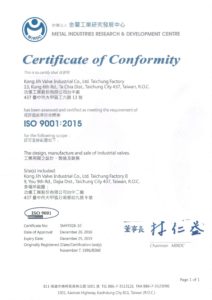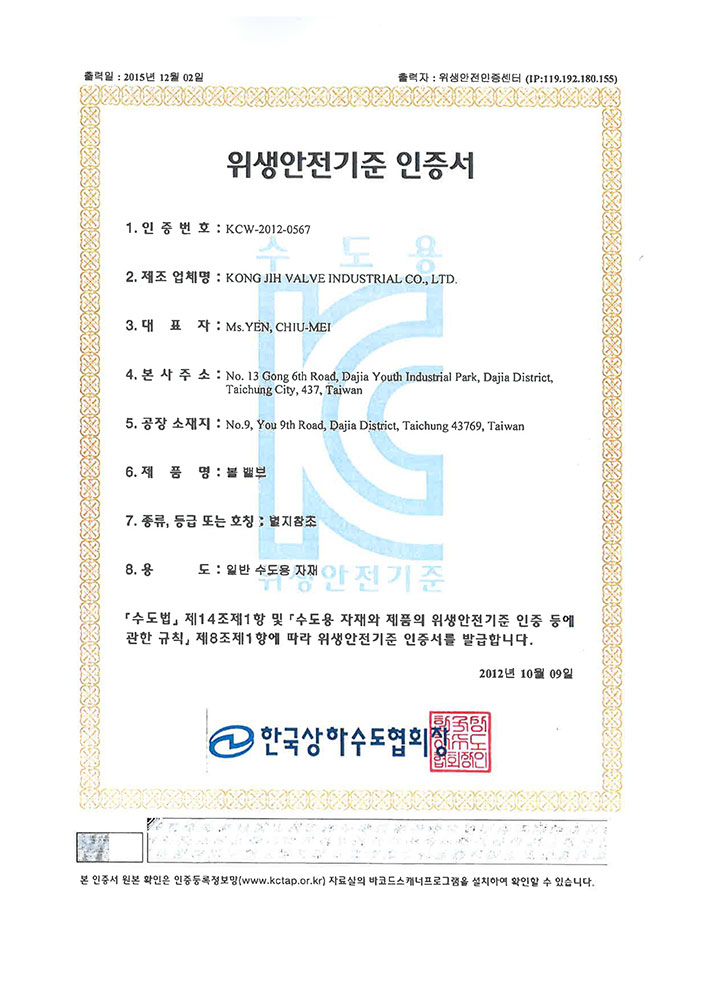 Milestone
1974
Kong Hsin Enterprise established in Hougang Street, Shilin District, Taipei City
1977
Capital increased and renamed company as Kong Sheng Valve Industrial Co., Ltd.
Factory expanded to No.81, Minzu Road, Tamsui District, New Taipei City
1981
Needle valve successfully developed
1983
Become an OEM and ODM manufacturer for overseas market
1984
One-piece investment cast ball valve successfully developed
1985
Two-piece barstock and investment cast ball valve successfully developed
1988
New factory established in Dajia Youth Industrial Park, Taichung City
1990
Capital increased and Kong Jih Valve Ind, Co., Ltd. established
1991
Flanged ball valve successfully developed
1992
ERP System (DOS version initially introduced)
1996
ISO-9002:1994 certified by BSMI, Taiwan
1998
Flexible manufacturing by adding a production line and CNC lathes
2001
First AML introduction approved by the world's largest oil and gas company
2002
ISO-9001:2000/CNS 12681 certified by BSMI, Taiwan
ISO-9001:2000 and PED 97/23/EC certified by TÜV Rheinland
2003-2007
Increasing production capability by adding more CNC machines
2008
API Spec 6D, No. 6D-0788 certified
High accuracy multi-tasking OKUMA CNC machine introduced
2009
Expanded a new factory (Plant No. 2) in Dajia Youth Industrial Park, Dajia District, Taichung City
2010
ZEISS CMM introduced
2011
ISO-9001:2008 and PED 97/23/EC certified by TÜV Rheinland
2012
CRN (Canadian Registration Number) certified by TSSA (Technical Standards and Safety Authority)
2013
Lost-wax investment casting foundry (Plant No. 3) established
Two-pieces ball valve certified by NSF/ANSI 61
2014
2"-12" Class 150 butterfly valve successfully developed
2015
Two-pieces ball valve certified by KWWA (Korean Water & Waste Water Works Association) certified
2016
Fist AAR(Association of American Railroads) certified manufacturer in Taiwan
2017
Lloyd's Register certified the casting production
ISO 9001:2015 and PED 2014/68/EU certified by TÜV Rheinland